(7) DePaul (27-6) vs. (10) Oklahoma (18-14)
Date & Time
Saturday, March 22, 12:30 p.m. Central
Television
ESPN2 | Coverage Maps
Mark Jones & LaChina Robinson
Radio
KRXO 107.7 FM/KOKC 1520 AM
Brian Brinkley & Colton Coale
Online
WatchESPN

Pregame Info
Game Notes (PDF)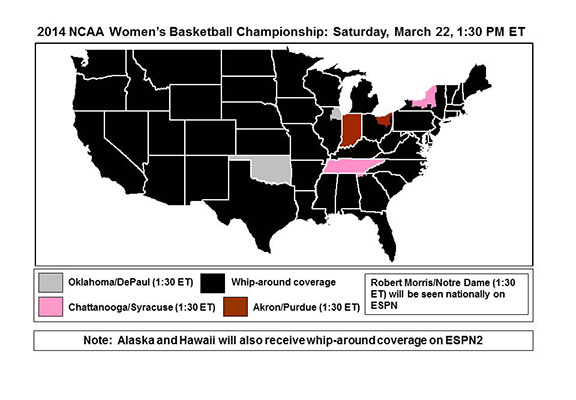 What to Watch
• Oklahoma is a No. 10 seed for just the second time in 17 NCAA Tournament appearances. It's the lowest the Sooners have been seeded. The previous 10 seed occurred in 2003 when Oklahoma lost to George Washington, 71-61, in a first-round game on its home court in Norman, Okla.
• Oklahoma's senior class is 5-3 in the NCAA Championship, having advanced to the second round the previous three seasons.
• The next victory for Sherri Coale will be her 400th as the head coach at Oklahoma. Coale been OU's all-time coaching wins leader since 2004.
• Oklahoma and DePaul have met just once before, but head coaches Sherri Coale and Doug Bruno know each other well. Coale served as Vice President while Bruno was WBCA President from 2005 to 2007. Coale followed with a two-year term as WBCA President.
• Oklahoma will have had 14 days between games when tip-off occurs Saturday, March 22. That's the longest layoff in the program's history since a 20-day gap between an AIAW state championship and regional championship games in 1981. The Sooners had a 13-day layoff before the 2013 NCAA Tournament and won its first and second round games.
• The Sooners placed four players, matching Baylor for a league high, on All-Big 12 teams. Aaryn Ellenberg was a unanimous selection to the first team and Morgan Hook was voted to the second team. Sharane Campbell and Nicole Griffin were honorable mentions.
• Sharane Campbell became Oklahoma's 30th player to reach 1,000 career points scored. It is the second time (2010) that the Sooners have had three players (Griffin, Hook) cross 1,000 in the same season. Only one other Big 12 team has had a lineup with four active 1,000-point scorers. Kansas State's 2003-04 team with Laurie Koehn, Megan Mahoney, Nicole Ohlde and Kendra Wecker was the first.
• Senior guard Aaryn Ellenberg passed Phylesha Whaley (2,187 points; 1997-2000) as the Sooners' second leading career scorer on Feb. 13.
Projected Starting Lineups
10
Morgan Hook
5-10 | SR | Lowell, Ark.
12
Brittany Hrynko
5-8 | JR | Philadelphia, Pa.
PPG
RPG
APG
PG
PPG
RPG
APG
11.3
3.6
5.0
3.7
2.9
3.7
3
Aaryn Ellenberg
5-7 | SR | Las Vegas, Nev.
13
Chanise Jenkins
5-5 | SO | Chicago, Ill.
PPG
RPG
APG
SG
PPG
RPG
APG
18.7
4.1
1.9
10.0
3.8
1.5
1
Nicole Kornet
6-1 | SO | Lantana, Texas
21
Megan Rogowski
5-9 | JR | Prospect Heights, Ill.
PPG
RPG
APG
SF
PPG
RPG
APG
6.0
3.8
0.7
7.6
2.8
2.3
24
Sharane Campbell
5-10 | JR | Spencer, Okla.
30
Megan Podkowa
6-2 | SO | Glenview, Ill.
PPG
RPG
APG
PF
PPG
RPG
APG
12.3
5.3
1.4
12.5
8.8
0.9
4
Nicole Griffin
6-6 | SR | Milwaukee, Wis.
31

Jasmine Penny
6-1 | SR | Logansport, Ind.

PPG
RPG
APG
C
PPG
RPG
APG
10.2
6.0
0.7
5.8
4.0
0.6
Against the NCAA Championship Field
Oklahoma went 4-11 against the 64 teams in the 2014 NCAA Championship bracket, with three of those losses coming in overtime (vs. Louisville, vs. Iowa State, at Texas).
Against DePaul
Then-No. 3 Oklahoma won its only previous meeting with then-No. 20 DePaul, a 105-71 victory on Nov. 12, 2007, in the State Farm Tip-Off Classic in Norman, Okla. Sophomore center Courtney Paris recorded the 34th of an NCAA record 119 consecutive double-doubles as Oklahoma's served its most lopsided victory over a ranked opponent.
Round by Round
Here's how Oklahoma has fared in each round of the NCAA Championship:
First Round: 13-2
Second Round: 10-4
Regional Semifinal: 3-7
Regional Final: 3-0
National Semifinal: 1-2
National Championship Game: 0-1
vs. Higher Seeds: 4-8
vs. Lower Seeds: 25-7
vs. Equal Seeding: 1-1
The Intangibles
Every team has advantages and disadvantages on the stat sheet. Here's what you won't find there:
Well Rested
The Sooners have 14 days in between their last game and tip-off of the NCAA First Round matchup versus DePaul. It's the longest layoff for the program since 1981.
"It's been a big benefit in terms of resetting our focus to what we want to do, the way we approach workm," OU senior guard Aaryn Ellenberg said.
Spring Break!
Indeed, the on-the-court progress is coupled with the University of Oklahoma beginning Spring Break in the week leading up to the tournament. Of the four teams at Durham, only Winthrop shares that advantage. Duke's spring recess has passed and DePaul's begins March 24.
Experience
Oklahoma's roster is boosted by four seniors with 455 games of experience who don't want this weekend to be thier last. OU has not fallen in the first round of the NCAA Tournament since 2005.
Additionally, Oklahoma head coach Sherri Coale ranks 10th among head coaches in this year's tournament field in terms of NCAA Championship game victories and total games coached, 28 and 42, respectively.
Duke head coach Joanna P. McCalliee sits just behind with 25 victories in 41 NCAA games.
A Clean Slate
Oklahoma's overall record means nothing to them in March. In 2010, the Sooners set a record for most losses by a team appearing in the Final Four. As a No. 3 seed, they finished 27-11 that year.