Tip-off is Near!
Saturday, March 22, at 11:59 a.m. CT
Duke has ousted Winthrop 87-45 and will be the opponent for Monday's NCAA Second Round game between the winner of Oklahoma and DePaul. The Sooners and Blue Demons are on the court now for their last-minute warmups before tip-off. Watch live on ESPN2 or on WatchESPN.

The map below displays home market-protected games. These are areas that will see their home market-protected game in its entirety. The rest of the country (black areas) will be part of ESPN's national telecast, which will allow the viewer to see the most compelling action from multiple games.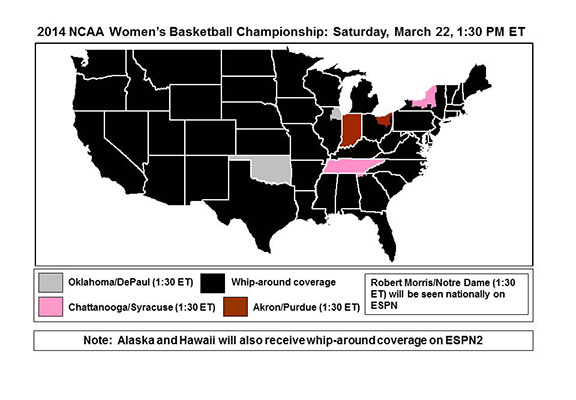 • SILVER: Oklahoma vs. DePaul (Channels -- DTV 720, Dish Channel 145, Dish FullCourt 456)
• PINK: Chattanooga vs. Syracuse (Channels -- DTV 722, Dish Channel 147, Dish FullCourt 458)
• BROWN: Akron vs. Purdue (Channels -- DTV 723, Dish Channel 148, Dish FullCourt 459)
• * Robert Morris vs. Notre Dame will be broadcast on ESPN and WatchESPN
---
It's Game Day
Saturday, March 22, at 7:46 a.m. CT
The Sooners have finished shootaround at Cameron Indoor Stadium. Oklahoma focused on guarding DePaul's spread offense and playing against a pressure defense. OU looks for a furious start in the first four minutes of the game to set the tone.

Watch the game live on ESPN2 at 12:30 p.m. CT. Mark Jones and LaChina Robinson will be on the call.
---
Preparation Day
Friday, March 21, at 5:54 p.m. CT
Oklahoma completed its first day of activities at Cameron Indoor Stadium Friday. Following administrative meetings for the coaching and support staff in the morning, the Sooners finally took to Coach K Court for practice on the eve of the NCAA Women's Championship First Round games.
Head coach Sherri Coale and senior guards Aaryn Ellenberg and Morgan Hook met with the media prior to the workout to discuss their matchup with 23rd-ranked DePaul.

Photo Gallery | Facebook Q&A with Nicole Kornet | Oklahoma Quotes | DePaul Quotes


---
Sooners Arrive in North Carolina
Thursday, March 20, at 8:34 p.m. CT
Nashville is home to the 2014 NCAA Women's Final Four, but the road to the Music City has many challenges along the way. The Sooners take their first steps this weekend.

Dozens of Sooner fans sent off the OU women's basketball team from the Lloyd Noble Center Thursday afternoon. OU then traveled from Will Rogers Airport in Oklahoma City bound on a Southwest Airlines charter for a two-hour flight to Raleigh/Durham International Airport.


-
The Sooners had dinner at a nearby steakhouse and watch the OU men's basketball second round game versus North Dakota State to end the evening. Friday, the Sooners will take to the Cameron Indoor Stadium court for the first time for practice at 3:20 p.m. CT.
Oklahoma faces DePaul in its NCAA First Round game Saturday, March 22, at 12:30 p.m.